---
A New Webinar
6.19.2019
Valerie Parisi presented a webinar to the American Association of Nurse Life Care Planners on Navigating the Veteran's Administration Database for locating UCR costing for life care plans, medical cost projections, and bill reviews. Find her presentation here.
---
Our New Certified Professional Biller
5.30.2019
Congratulations to our research assistant Lindsay Unsworth for becoming an AAPC Certified Professional Biller (CPB). In earning her CPB, Lindsay has demonstrated:
An understanding of various types of insurance plans
Expertise in applying payer policy, Local Coverage Determinations (LCDs), and National Coverage Determinations (NCDs) for successful claim submissions
Knowledge of CPT®, ICD-10-CM, and HCPCS Level II coding guidelines
Successful navigation of healthcare industry rules and regulations, including HIPAA, False Claims Act, Fair Debt Collections Act, and Stark Law.
An understanding of the life cycle of a medical billing claim and how to improve the revenue cycle
Expertise in effective claim follow-up, patient follow-up, and denial resolution
---
2019 NJAJ Boardwalk Seminar Update
5.22.2019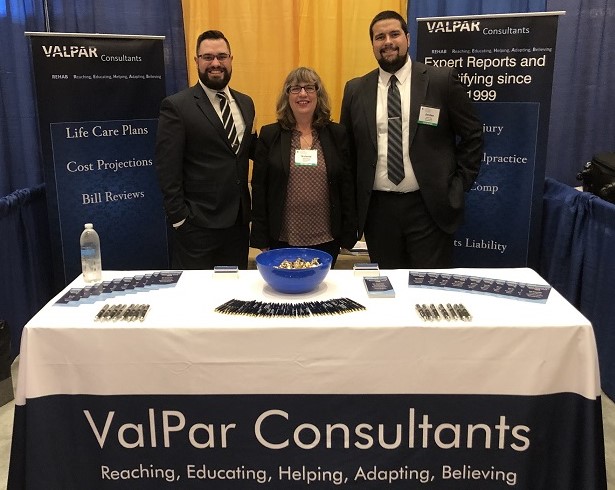 Valerie Parisi and Josh Leitgeb were joined by Valpar Consultants' newest member, Jordan Haq, in presenting at the NJAJ Boardwalk Seminar. A Special thanks to all who came out to see our booth! If you didn't have a chance to stop by, we will be exhibiting at the Meadowlands Seminar in the fall!
---
2019 New Jersey Association for Justice (NJAJ) Boardwalk Seminar
1.4.2019
Valerie Parisi and Joshua Leitgeb will be representing ValPar Consultants this year at the 2019 NJAJ boardwalk seminar. Stop by our booth to learn about Life Care Planning and see what ValPar Consultants can do for you! See nj-justice.org for more details.
Exhibit Dates: &nbsp May 9 - 10, 2019
Booth Number: &nbsp 412
---
New Website
1.3.2019
New for 2019, we now have a new website that showcases our business, services, and phenomenal staff working tirelessly to provide superior Life Care Planning!
---